After a long wait of three years, the global plastics and rubber industry professionals were again fully able to exchange ideas in person. The K fair in Düsseldorf, Germany was an excellent opportunity to meet colleagues in the industry and get to know the latest innovations and future prospects.
Extron's first visit to K was 30 years ago, in 1992. CEO Niko Holm, Sales manager Mikko Vuorinen and Head of mechanical engineering Juha Mattila have already participated a few times, but for Paavo Laaksonen, this was an epic 13th visit since his first fair in 1986. We also had a couple of first-timers among us. Sales manager Jarkko Joela and Mechanical designer Jussi Haavisto got their first glimpse into the atmosphere of the fair, and there were plenty of new things for them to see.
This visit was the first K in Extron's history without its own representation stand. That's why our entourage was split into two units. Mikko, Niko and Jarkko represented sales, while Juha and Jussi focused on procurement and design.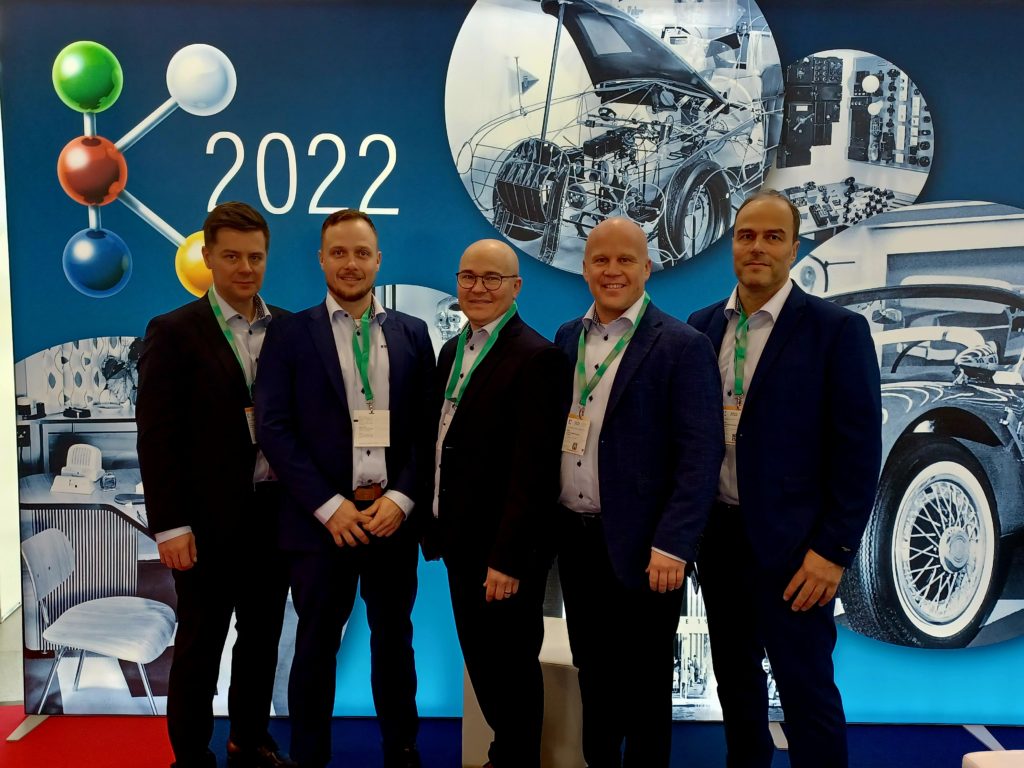 Better world with better design
For us, the main message of the K was clear: plastic is not destroying the world, but it plays a key role in saving it. Plastic is an environmental problem only when it ends up in the wrong place, i.e., in nature instead of recycling. New and more efficient ways are constantly being invented to reuse plastic, and the rest has a valuable use in energy production. The fair presented new technologies and innovations related to plastic recycling. The most interesting topics were, for example, related to redesign, where consideration of recyclability was emphasized already in the design phase. Thanks to smarter design, it will be possible to reduce the use of materials and still develop even better properties to offer a more durable and sustainable alternative and make logistics more efficient. Plastic also has superior properties in ensuring the preservation and extending the shelf life of food products. That helps to prevent food waste and food-borne illnesses.
The recycling of individual plastic elements is also developing into designing more comprehensive circular economy chains, and the transition from multi-materials to mono-materials streamlines recycling.
Our intelligent design helps production lines and smart operators achieve environmental and efficiency requirements. When the machines are designed according to the demands of the processes, the start and stop phases are more efficient and material waste is significantly reduced. Also, the thinning of the films and the increase in yield per meter have already been considered in the machine and automation design, and we also offer more precisely adjustable parts and components.
The requirements for automation and safety were also strongly on display. And when it comes to these topics, Extron's VIRE winder is a pioneer on a global scale. Traceability and predictability are also high priorities for several operators. In achieving these, Extron VASTE plays a key role. It is a model example of smart implementation, which also significantly facilitates the work of smart operators.
The aftermath of the K
Now the K 2022 is done, and we gained a lot of new experiences and perspectives from Germany. It was nice to meet new people and some of the familiar acquaintances we hadn't met face to face. In addition to this, it was awesome to meet our close partners again. The trip also confirmed that Extron clearly has its own place in the field of international extrusion. The return to everyday life started with a takeaway meeting and a discussion about our experiences. Next, we plan to continue working on ongoing projects and review the new contacts, useful lessons and fresh points of view.