VIRE winder spare parts
Keep your process safe and efficient with Extron VIRE winder spare parts. We provide safety updates, rollers, sensors, cutting knives, shaft and shaft handling elements and automation. modernization
MECARING fitting tool spare parts
We deliver components for the MECARING automated pipe fitting seal inserting unit. Contact our sales team for ring inserting tool refurbishing, magazine bar upgrade, interface update.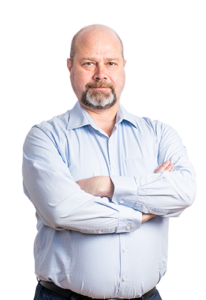 Hannu Heman
Director Customer Support
hannu.heman@extron.fi
+358 408379 354
Spare parts and components
Our spare parts team is at your service whenever you need new components or wearing parts for MECARING, VIRE winder or any other extrusion equipment. The spindles, rollers and electrical components wear out with use and need to be replaced at certain intervals. We also supply spare parts for extruders, such as screws, cylinders, feed zone and heating elements.

You should always stock parts that are critical to operations and require long delivery times. That way you can be sure that your production will not be stopped or delayed by unexpected failures.
Extrusion unit maintenance
Extron has over 30 years of experience in maintenance of extrusion lines and units. Our maintenance process covers measuring with design and suggestions. We deliver and install all the parts you need. We also provide the database to help you track, monitor and report your maintenance data and control your production. With our maintenance services, you will gain maximum capacity and quality out of your production line.
Implementing processes
Thanks to our long experience, we have a broad understanding of both extrusion processes and equipment features and requirements. Different industries require different things, but our process expertise helps to outline the need for maintenance and repair of extrusion lines, units, and parts. Our wide range of solutions and our professional expertise based on researched knowledge and experience ensure that projects are always carefully planned, allowing downtime to be anticipated and processes to be implemented efficiently and reliably.