Pipe line expertise
Extron is the expert of designing and manufacturing automated extrusion lines, units and parts for plastic pipe production. In addition to downstream equipment, we offer a wide range of high-performance extrusion components for production of conduit, water, gas and sewage pipes from polyolefins according to international standards.
Pipe calibration tanks
Extron Pipe Calibration tanks give the pipe its final shape and size. High quality calibration tools ensure round pipes with excellent surface and lower overweight of the pipe products. The motorized plastic pipe calibration vacuum tank can be either of single or double chamber construction. The temperature of the calibration tank is kept on the desired level by a thermostat.
Spray bath
The spray cooling method of plastic pipes prevents the formation of water boundary layers. With Extron spray bath, you can increase the heat exchange rate significantly compared to full-water-bath cooling. Extron cooling tanks are integrated to line control and centralized fault diagnostics system. Our flexible design and manufacturing allow a various selection of different lengths and sizes.
Haul-off to pipe line
With Extron Haul-off unit, you can monitor and adjust the pipe-laying process even more precisely and efficiently. The Extron haul-off unit grips the pipe over a long length and pulls it at a constant speed. The pulling belts are mechanically adjustable and upper ones are driven pneumatically. Haul-off unit can be integrated to line control and centralized fault diagnostics system.
Plastic pipe saw
When cutting plastic pipes, accuracy and adaptability make the difference. Extron Pipe saw unit can be fully synchronized with extrusion speed. You can also add a variation of cutting equipment, depending on diameter of the pipe. Planetary saw is normally equipped with disk and milling cutter. The suction device is with double filter and sound proofing.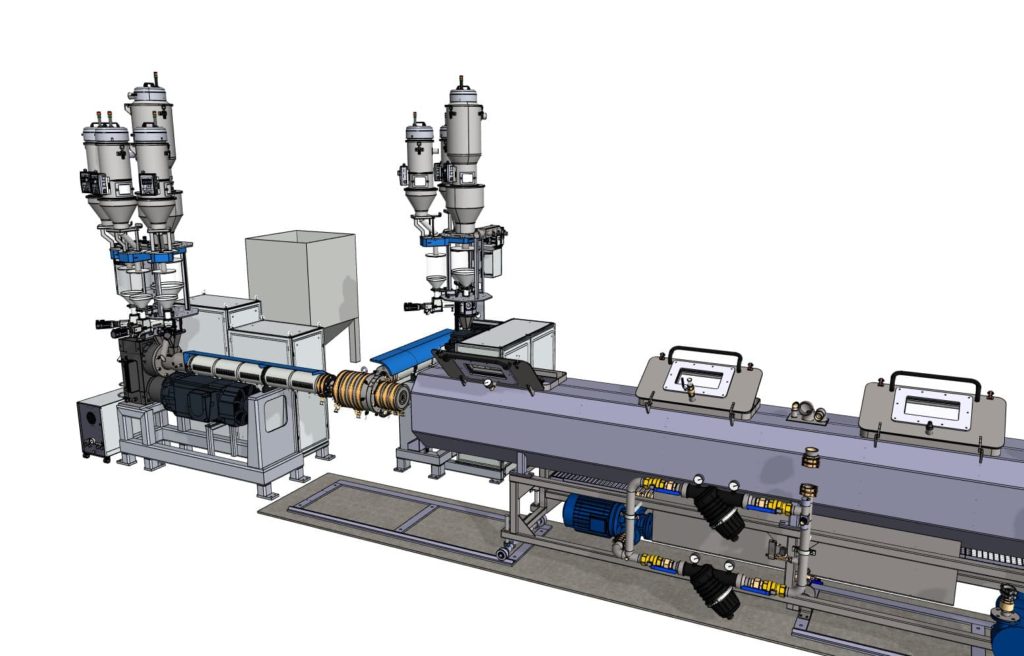 ASK THE ARCHITECT
We are professional problem solvers. We identify the challenges and find the right solutions. Our experience helps you answer all extrusion questions.