For decades, Uponor public company and Extron have worked together to reform the processes of the plastics industry to be smoother, more efficient and safer. In the ever-accelerating future, quickness and operational reliability are even bigger competitive advantages. For Uponor, Extron's automatic fitting seal inserting unit MECARING has been a significant step towards a more automated and reliable injection molding process.
Uponor's injection molding department at Uponor Infra in Nastola, Finland, develops water-related solutions for a more sustainable environment. Production manager Harri Mikkola has a long history of working with Extron's extrusion architects.
The MECARING units have been an important part of our collaboration, as the automatic seal insertion makes our processes much faster and more efficient. Over the decades, Extron has been a solid partner with a forward-looking perspective. Their flexible design expertise, personal service approach, high-quality product range and customized solutions have always met Uponor's specific needs in automation development.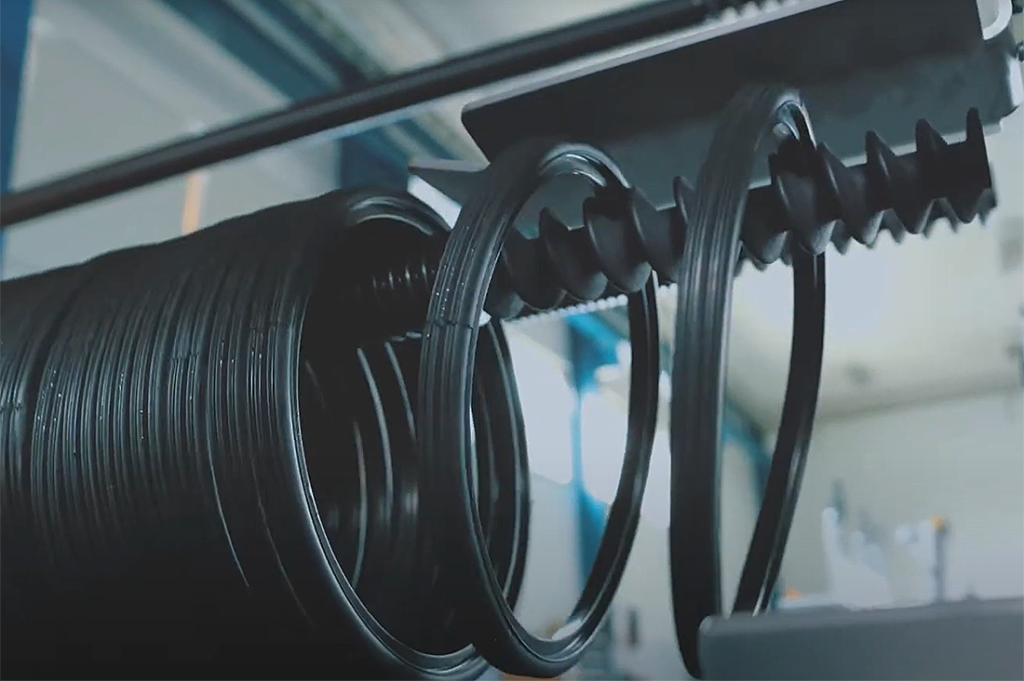 Safer and more reliable future
The importance of automation continues to grow. That's why Mikkola believes in developing cooperation on more fronts than just individual units.
– In Extron's design, usability and safety have always been key factors, and these are the areas where you can always improve. That is why we continue to look for even safer units, components and perhaps even entire automated production cells where quality meets automation in compact total solutions. These are investments that pay off as safety and production efficiency improve.
In Mikkola's opinion, Extron's automation and design expertise will certainly benefit any organization that manually seals pipe fittings. Automation reduces the negative effects of repetitive work, such as human error, delivery bottlenecks or ergonomic problems.
– Extron's MECARING catalogue also includes automatic assembly tools for O-ring seals, so they are not just for sewer seals. Extron's machines, know-how and experience save resources and improve quality while maximizing operational reliability. Working with Extron means a huge increase in production efficiency.
Compact and comprehensive performance
The advantages of automation and smart design are not limited to occupational safety, cost management and quality. Automation applications combined with robot cells and functionally reliable units also enable the more compact use of space.
– Especially when the winters are cold and the summers are humid, the warm and dry interior spaces must be utilized as efficiently as possible. The use of high-quality components and intelligent design also improves usability. The OEE reading, which describes the relationship between usability, speed and quality, is an important metric. When the design is at Extron's level and the automation works efficiently without interruptions, the maximum output and benefit are obtained from the lines operating 24/7.
Problems cannot be completely prevented, but thanks to automation, they can be fixed safely and quickly without stopping the production.
– If something unexpected happens, automation identifies the malfunctions quickly. With the help of data analysis, faults can be corrected and prevented from happening again. At Uponor, even if the automation stops, the injection molding unit remains running. Before we automated our sealing units with MECARING, our level of interference was a few percentages. Today the level is a few per thousand. Our interference sensitivity readings are starting to be at the same level as in the aircraft industry. It is the result of smart design and efficient process. Of course, it requires that the operators work according to the instructions and that the equipment is properly maintained.
The pace is increasing
During the decades spent together with Extron, Uponor has almost completely given up manual processing of pipe fitting seals. The companies have also jointly developed components and 3D-printable spare parts.
– Delivery times and availability of the spare parts have improved considerably. In the past, the normal delivery time could well be 6 weeks. Today, the order goes to the 3D printer almost immediately and the delivery is fast. It is the result of close cooperation. We do not have to wait for inventory, as the necessary 3D models are immediately ready for delivery. It will increasingly be the operating model of the entire industry in the future.
Mikkola predicts that in the future the importance of speed will be even more significant, and challenges must be answered faster, from disruptions to the availability of spare parts. The design of automation cells must evolve towards simpler and more compact solutions that can be easily customized.
– When implementing projects, speed is a huge advantage. Smart design speeds up operations. The efficiency of space use and the generalization of electronic components are other megatrends already waiting around the corner. Fortunately, our long-term partner Extron has already been at the forefront of many revolutionary changes. A better future is created through joint development, and together we have already achieved many improvements. Thanks to our shared effort and expertise, our process is smoother, and better usability makes operators' work safer and more productive.
MECARING
Extron MECARING makes automatic seal inserting easy and effective. Our flexible design reduces human errors and provides you optimal tools for various types of plastic pipes and pipe fittings with all types of sealing rings.